Biggest Home Decorating Mistakes People Makes And Their Solutions
Home decoration not only add value to your home but it also has an effect on the mood of the people living in the home. It grabs the attention of your visitors and makes your home flawless.
Make a note of the important thing that good looking home makes you free from anxiety and stress.
Here in this article, we will guide you on how to avoid your home decoration mistake with their effective solution. Stay tuned to know more about your dream home.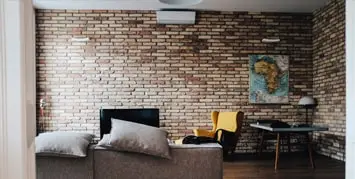 1. Decorating around Your TV:
In the living room, you can see TV is the focal point. But you can also arrange the furniture where you can showcase artful accessories, which can grab attention away from the TV when it isn't being used.
You can set of wall sconces or matching vases aside to flat TV. 
Use Shelving around TV is also a very good option where you can Frame Your TV with Colourful Books
Your TV decoration also depends on how frequently you used. 
When TV is rarely used, or don't like looking at it, hide it completely with art panels. This is a great solution.
2. Test Your Wall colour:
Hey, wait there!!
It can become a big home decor blunder for those people who start painting without testing the colour on small space. 
Never choose the paint colour in the first eye. Because wall colour can also be the reason which, radically affect someone's mood and emotion. There is colour phycology behind it. Blue colour consider for calming and coolness where yellow colour represents the feeling of happiness, optimism, inspiration
Red colour energies and generate feelings of confidence and excitement. Purple colour represents royalty.
All this your colour selection will have an effect on your mind and emotion, so it is absolutely fine to little choose here.
A lamp is an important tool of interior design as it really set the mood. But selecting hideously large lampshade for your small lamp can make a really awkward decoration. Buy the lampshade according to the style of your room and most importantly consider the size of your room as well.
A houseplant is another important aspect which adds value to your home interior. This is the thing which makes the space users refresh and energies. Most of the people keep houseplants to purify the air also.
Many people do a mistake here, you need to take care of that you are just decorating your interior not to turn your home into a conservatory.
You can Place a small houseplant in the mid-level of your shelf. 
Well friends its completely outdated decor idea to have too many photo frames on the table. And somewhere it also gives a cluttered feel to space.
Here you can make it attractive you can make a photo gallery on the wall and switch them as you like. Whoever visits can view your special memories with family and friends. And you will feel the love that always surrounds you.
6. Cluttered Wires arrangements:
Guess, what can be the more ugly than wires hanging around in your room? Open and hanging wires can draw the attention and can spoil you're in the home interior so be careful here. 
You could hide them with a wall or keep them all hidden within a box. You can make good use of your gift box.
You can arrange the ugly wires behind the books arrange it systematically so that the wires cannot peek through.
7. Overboard the interior Theme:
Sometimes many people get so obsessed with a theme or home decorating style that we do not realise how overwhelming it makes the interior look.
Here you can do one thing. You can select the interior theme according to profession or hobbies. Let's say if you are a traveller, so here you can add decor items from your favourite vacations.
8. Balance of Furniture Pieces:
Without the proper balance of your furniture, a room can make the feeling of uncomfortable and anxious.
You often might get confused about how to set our furniture in the room. So place your furniture according to your sitting arrangements.
If you have a big sofa, make sure you will place a small coffee table. 
So avoid common home decoration mistake because decorating your home is the things that you do; from your colour picking to wall gallery, from your home lighting to set the furniture. All things that you choose to finish your space off which give perfect look to your dream home that you've been waiting for.
Harihar Infrastructure Development Corporation Ltd
HIDC LTD.
G-3 AMAR PALACE , DHANTOLI
NAGPUR- 440012
Email:- info@harihar.com
Phone:- 0712-2436453 | 2436454 | 91-937-310-3901